Vertex Meadow
MAKE A WORLD (Chrome or Firefox recommended)
About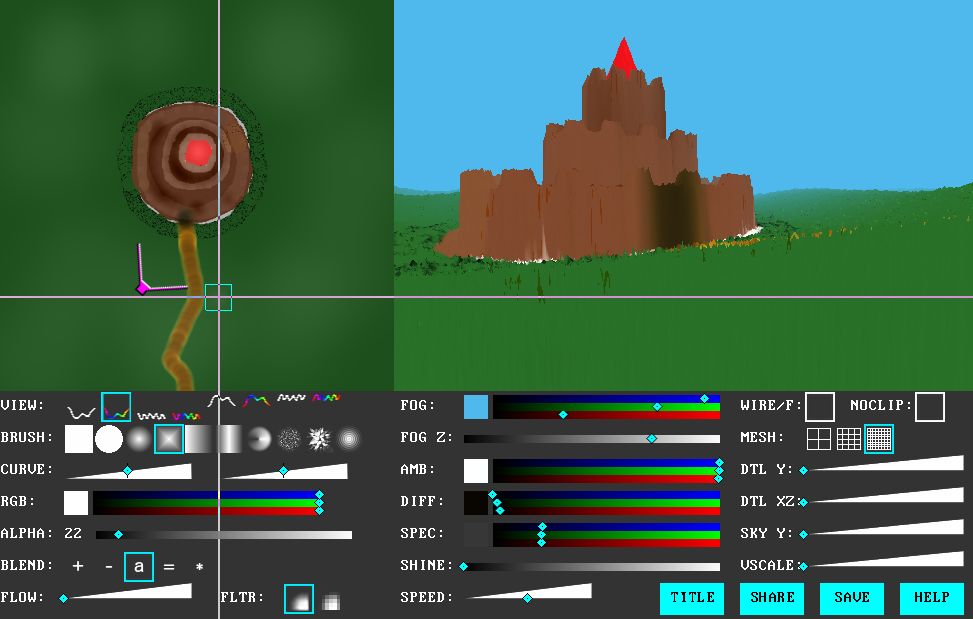 Vertex Meadow is a tool that renders 2D images as explorable 3D terrain. With it you can create detailed and unusual 3D environments to explore using a 2D paint-program-like interface and your webcam.
The tool runs in a browser using webgl and you can share your creations via URL.
You can also chain together multiple levels by creating triggers in your level that cause the player's browser to jump to a URL of your choice.
↓↓↓Scroll down for important usage tips↓↓↓
Examples
Tips
Press E to toggle edit mode
Some views change colour and some change height
Some views affect the ground and some affect the sky
Some views affect terrain and some affect detailing
Alpha = Height
While in edit mode hold H and move your mouse left and right to change brush height
Hold Z, X, Y or R and move your mouse along the x axis to change brush size and rotation
Press T to reset brush size and rotation
Hold N or M and move your mouse along the x axis to change the curve of the brush
Hold shift and move your mouse to pan
Use your mouse wheel to zoom, or use the 0 and 9 keys
Press L to place a link while in explore mode (i.e. not edit mode)
If you walk off the edge of the map, press J to go back to the start position
If the app looses mouse capture, press E to exit edit mode (so you don't accidentally draw) and then click to regain capture
The blend modes are:

+: additive (increases height, makes colours brighter)
-: subtractive (subtracts height, makes colours darker)
a: alpha blending (good for colour views)
=: no blending (good for setting exact height)
*: multiplicative (use to reduce height while preserving shape)

Set the flow to zero if you want to stamp once with each click
You can create custom brushes by pressing C. This will replace the current brush with whatever is under the cursor.
Click "share" to generate a unique URL for your creation that you can share with others
Exporting
You can export a standalone version of your level using this tool.
Source code
The source code is available
here
---
If you have feedback, find a bug or make something nice, please let me know by email: ian -at- ianmaclarty.com or via twitter: @muclorty.